Zapoměli jste Vaše přihlašovací údaje? Nebo chcete zjistit heslo k cizímu facebook účtu, mám pro Vás špatnou zprávu, heslo na facebook nelze žádným způsobem zjistit. Dokonce jej nedokáží zjistit ani samotní vývojáři, uchovává se totiž v nečitelné. tzv zahashované podobě, z které původní heslo nelze žádným způsobem získat.
Pokud jste heslo zapoměli, můžete použít odkaz "Zapoměli jste své heslo", někdy tam býva místo toho odkaz "nemůžete se přihlásit", na úvodní straně facebooku

Dostanete se na stránku, kde je nutné zadat svůj email.

Facebook podle něj najde Váš účet, ujistěte se že to jste vy a zadejte "Zapoměl sem heslo"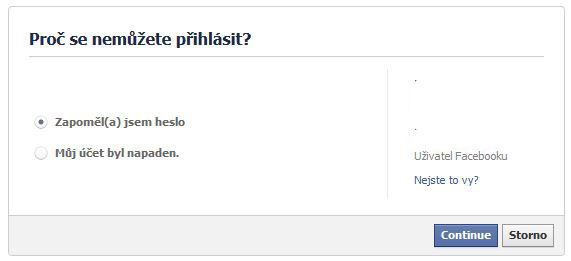 Následně zvolte potvrďte obnovení hesla, a facebook Vám zašle odkaz pro změnu hesla na Váš email.
Pro celou tuhle proceduru, je samozřejmě nutné znát heslo ke svému emailu, email je klíč k obnovení hesla na Váš účet, heslo k emailu nepoužívejte nikde jinde, dobře si jej zapamatujte a nikomu jej nedávejte k dispozici. Jak sami vidíte, pokud by někde toto heslo znal, dostane se i ná Váš Facebook účet a lehce jej tak může zneužít. A to se týká i většiny ostatních webových stránek, které umožňují obnovu hesla podle Vašeho emailu.