V poslední době se v médiích objevují, čím dál častější zprávy o tom, jak facebook zneužívá citlivá data svých uživatelů. I tohle může být pro člověka důvod, proč si účet na facebooku zrušit. Jiným důvodem může být poměrně velké množství reklamy nebo nevyžádaných příspěvků od všech uživatelů. Zrušit Facebook lze, a není to zas tak složité, facebook dokonce nabízí 2 způsoby zrušení, dočasné a trvalé, pokud si nejste jisti, zvolte si raději dočasné řešení, své rozhodnutí tak kdykoliv můžete vzít zpět a účer si znovu obnovit.
1. Dočasné zrušení facebooku
Občas bývá nazýváno jako deaktivace účtu. Pokud svůj účet deaktivujete, zmizi z facebooku prakticky všechen obsah který jste na účet vložili. Facebook upozorňuje, že úplně 100% nezmizíte, Vaše jméno se například nadále bude zobrazovat v přehledu zpráv u Vašich přátel, přátelé Vás budou moci dále zvát na události nebo tagovat (označovat) na fotkách, to by snad nemělo nikomu vadit.
Ve svém účtu klikněte nahoře v menu na šipečku, která poté zobrazí vyjížděcí menu, v něm klikněte na položku nastavení.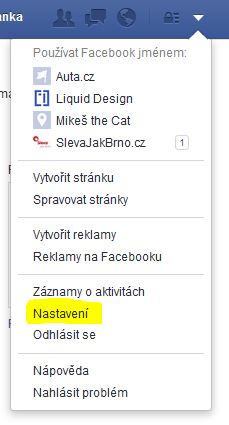 Dostanete se do nastavení vašeho účtu, v levém menu potom zvolte položku zabezpečení.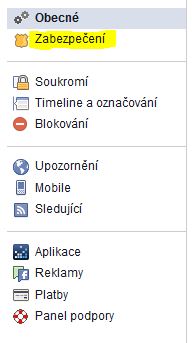 Úplně dole najdete odkaz "Deaktivace účtu", stiskněte jej.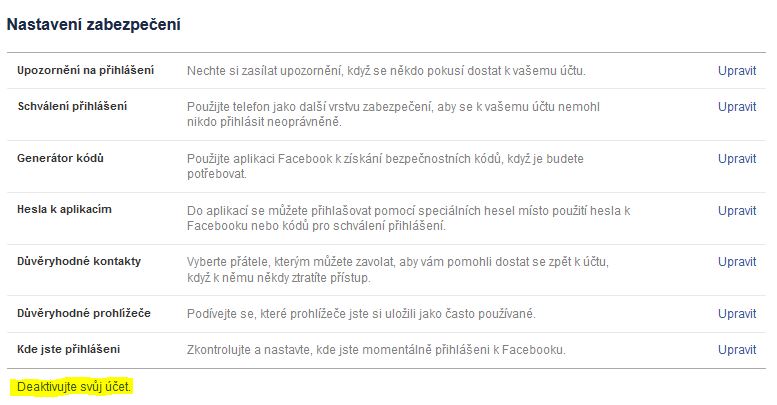 Dostanete se na stránku, kde je nutné ještě deaktivaci potvrdit, Facebook se Vás zde zeptá na důvody zrušení účtu. Pokud nechcete v budoucnu dostávat emaily z facebooku (týká se i pozvánek od přátel), zaklikněte odhlášení e-mailů. Pokud jste náhodou vývojář aplikací na facebooku, můžete tyto aplikace trvale odstranit. Deaktivaci je nutné ještě potvrdit zadáním svého hesla.

Účet budete moci kdykoliv obnovit, přihlášením se znovu k facebooku.
Trvalé zrušení facebooku
Trvalé zrušení je už poměrně vážná věc, měl byste si být opravdu jistý že se k sociální síti již nevrátíte, Facebook tvrdí že Vaše data budou nenávratně smazána, ve skutečnosti si je nechává dále pro interní účely a prakticky jej nelze donutit k tomu aby je nějak odstranil, bohužel ani nelze zjistit, jaká všechna data si o Vás v databázi vede.
Pro trvalé odstranění se přihlaste do Vašeho profilu a klikněte na odkaz http://www.facebook.com/help/contact.php?show_form=delete_account, objeví se Vám okýnko, kde kliknutím na "odstranit účet" požádáte o odstranění, volbu je nutné ještě potvrdit heslem a opsáním bezpečnostního kódu.

Následně máte ještě lhůtu 14 dní, kdy jde odstranění účtu zrušit. Tuto možnost najdete po přihlášení ve Vašem profilu.
Doufáme že jsme Vám se zrušením Vašeho účtu pomohli